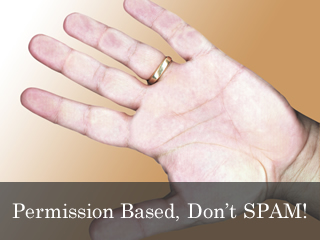 When you're running a business, you want to reach your target market as often and as widely as possible— especially when you're running it online.
One of the ways that you can communicate with your market is through email marketing. Now, don't get me wrong. I'm not talking about doing random e-mail blasts and spamming everyone else's emails. I'm talking about permissive, targeted and nurturing emails that allows you to convert leads into sales.
Today, I'm going to give you a basic guide to email marketing by letting you in on the essentials. Whether you're just starting to get a hang of internet marketing or have been doing it for a while, this may help to see if you're missing out on something.
First off, what is email marketing?
Email marketing are fundamentally two things: First, sending emails to your subscribers about the latest news, offers and other updates you want your market to know about. Second, it's sending follow up emails to those who are interested on becoming subscribers.
What is the purpose of email marketing?
Email marketing aims to establish brand awareness and customer loyalty.
Now that we've sorted out the what's, we can now dive into the how's of effective email marketing. Treat this either as a checklist or as a step-by-step guide so I can be sure you won't overlook even of these tips.
1. Be aware of your "From" address.
One common mistake email marketing practitioners commit is using the wrong "from" address. They would send out emails and people end up receiving them as from "donotreplytothisaddress@failurenotice.com" That can be very annoying on the part of the reader, especially if they intend to reply. You don't want them scavenging for the e-mail address the need to respond do.
So better make sure to have a more personal, more human "from" address. It doesn't need to be the main address of your business. It can just be one of the secondary ones.
2. Consider how your email looks.
Email design also counts when you're trying to use this online strategy. Before anyone bothers reading what you've sent them, they'll see first how your email appears aesthetically. You won't appeal to readers if your email looks like a collection of big, bold, flashy text uncoordinated with neon colors and poorly placed (and chosen) images.
Remember, you're a professional trying to communicate with your market. You don't want to appear like an online clown with too loud, colorful design that people can easily dismiss or even laugh at.
3. Think of what you're about to send.
Content is still king in the realm of internet marketing. Be it in your blog posts, press releases, copies and even emails, what your market reads is still the most important component. Ensure that what's in your email is complete and concise. Focus on what you really want to say and everything else that needs to be included.
Sometimes in doing business online, people only rely on what they read and see. They don't need to talk to you anymore because your content is enough to speak for your business.
4. Think outside the box!
Creativity is what distinguishes one good work to the best work. Even if your competitors are saying the same thing, it's how you're going to say it that will determine your success.
Allow yourself to be imaginative and think outside the box when sending your emails. The way you present it, the words you choose and the images the readers will see all matter. Consider how children's books appear to all ages: short but well written and serenely lovely to the eyes.
5. It's all about timing.
Even if you're already doing permissive emailing, there are days that your market is not at all interested in reading what you have to say. Researchers found that Tuesday and Wednesday are the best days for people to respond to your emails. Now when I saw this study, it got me thinking it's quite true. Considering how hung up people are from Sunday every Monday and how excited they are for the weekend to start on a Thursday.
So timing really is key for people to acknowledge other people. Just make sure you practice getting a perfect one.
6. Allow them to unsubscribe.
In business, there are always customers who want a bit of change in their lives. That's why when you're sending out emails, you should have an Unsubscribe button to give them the liberty. This is a learning process for you too so take email marketing as a chance for you to better your business as well.
Besides if you are able to cook up something new and worth the availing of, you'll have these people subscribing again in no time.
7. Keep your market engaged.
Email marketing isn't just about introducing your brand to the world or letting your market have a go with your latest discounts. It's also about keeping them engaged by informing them what you're currently up to and what they can anticipate, just to keep them hooked.
So there you have it! The simplest guide to successful and sustainable email marketing. Just remember never to miss any of these steps because these will affect how successful your email marketing campaigns are.