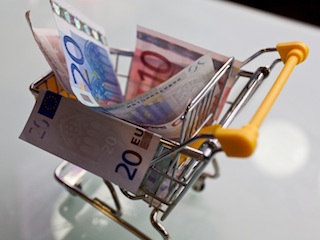 One of the primary challenges an online marketer will face is bagging their first sale. Sure there's the setting up of websites and social networking sites plus all the other expenses you have to cover. But there's nothing more compelling and nerve-wracking than trying to make your first dollar.
If you ask any successful businessman/woman about the first sale they ever made, they'll tell it as if it just happened minutes ago. The memory is so vivid because it's just that overwhelming being able to convince someone that your business is worth the investment.
I'm dedicating this post to all online marketing aspirants who are yet to get their first sale. If you find yourself struggling, I'm confident this one is worth taking note of.
1. Bank on the people you know.
Every time we learn something new, the first people we talk to are the ones we know: family and friends. Whether we just bought a new pair of sneaks or have heard about the latest smart phone that's going to be released, we immediately let the people we know learn about it. 
The same goes with making your first sale. You invest first on those you know in more ways than one: try to sell them your products/services or see if they could share it with other people. Keep in mind they're the nearest connection you have so never overlook what they can do for you.
2. Blog your business.
Even if you have an ecommerce website, having a blog will increase the chances for you to bag that sale. Now here's the thing: what is and how you present your blog is still something you need to be very careful about. It should have creative content, be presented in various ways (webinars, photographs, inforgraphics, videos, etc.) and have a room for customer feedback.
Never forget that a blog is heavy on search engine. A lot of people use Google, Bing and other engines to find what they are looking for— so they will end up clicking on a blog.
3. Pin It, Post It, Tweet It.
It shouldn't come as a surprise if I tell you social networking sites help businesses— in a massive way! With millions of users active in Pinterest (17M), Twitter (140M) and Facebook (901M), all it takes are a few clicks for people to buy.
Introduce your product by signing up, follow and add people, engage them in conversation, keep them updated, upload photographs of your products/services. There are a million and one ways you can use social networking sites to get that first sale. I daresay you can even get 'multiple' first sales if you're active online.
4. Get your ads working.
PPC is a big help for you to find your first sale. You can work on Google AdWords, Amazon ads and Facebook advertising. Essentially, Google AdWords help you find the target market you're looking for.
Amazon product ads are a good way for you to be found in one of the biggest, famous and credible online shopping sites. People who are already on the page of products/ services they're eyeing can easily spot your product ad. Compared to banner ads that may appear intrusive or questionable, those in Amazon don't have to be worried because they are in an established and secured site.
Facebook advertising is also a very great way to make people come to you. Working as a PPC as well, Facebook ads give you the opportunity to sell your products (in a limited number of words) be spotted in the most popular SNS.
5. Announce promotions and discounts.
This is one step you should not overlook because if you do it right, you can say goodbye to the days you're almost desperately chasing customers. 
What you can do is even before you make your ecommerce website, announce that you're going to give a discount or even freebies to the first people who purchase your products/services. Give them a buy-one-take-one promo if you want to. Cook up a groupon and post it in other websites.
Everyone enjoys a sweet deal. It makes them feel special and unique so go ahead and give this a shot.
6. Be patient.
I know this sounds intangible and overrated to you but trust me, patience really pays off. All the steps I previously mentioned require one thing: time. You can't put up a full-fledged and well-thought ecommerce website overnight. You definitely can't have complete, well-engaged social networking sites in a day. It takes time (weeks, months, even years) and patience is the best partner you can marry it with.
Ecommerce websites can make you rich, as long as you do things correctly. If you're just starting, focus on the realistic goal of obtaining your first sale before anything else. From thereon, proceed to dreaming bigger and bigger. So go ahead, take the 6 steps and be on your way to looking for your next big sale.