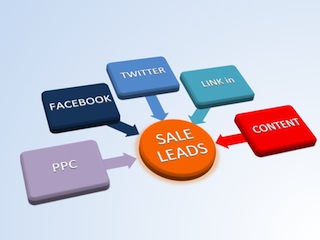 If you're one who's interested to do business online, then you my friend, are in the right page.
Today I'm going to give you a basic introduction to one of the most effective business tools to date: Internet Marketing. So I suggest you take notes just to make things easier for you as we go along.
But before that, let me clear out a common misconception even hardcore Internet marketers still get confused about.
The Difference Between Internet Marketing and Inbound Marketing
What makes inbound marketing and internet marketing so confusing is that they both are business strategies that use practically the same tactics: social media, banner ads, content marketing, etc. 
The difference between them is how they approach their leads. Inbound marketing has a more unified and technical way to measure leads (lead nurturing, categorization, analytics) and manage one sales funnel. Internet marketing however focuses more on the tactics rather than the results. That's why it has a wider, less filtered sales funnels (Kunocreative, 2010).
We'll discuss inbound marketing on a different time. For now, let's proceed on the tools internet marketing has to offer to any aspiring businessperson.
Internet Marketing for Ecommerce
Ecommerce is basically selling products and/or services online. Think of it as Amazon, Ebay and other websites where you can buy or avail of something.
What makes ecommerce successful is how well you use internet marketing. What makes internet marketing successful is how well you use its tools, which now leads me to them.
Below are the components of internet marketing which you will use once you get your business up and running online. Consider these tools very carefully because if you don't use them wisely, then they may all just backfire.
Website
Remember those days when you meet someone interesting, you exchange calling cards with him/her? Well now it's entirely different as the phrases "Do you have a website?" or "I'll look you up online!" came into the picture.
Your website is one vital way for your potential market to reach you. If you have a site that's easily accessible, those who are interested will get in touch with you. Moreover, you're going to be easy to stumble upon by those who are trying to search for what they need online.
You need to understand that at this age of online dependency, your website is the best platform you can have. So, I suggest you don't skip this one out because everything else that will follow here highly depends on your website.
Content Marketing
Now that you've got an impeccable layout and design for your website, you need something in it: content. Wait, let me rephrase that: brilliant, mind-blowing, thought-provoking content. 
I'm not just talking about online articles, press releases and copies. I'm also including webinars, infographics, videos, images, etc.  Practically any medium that you can upload online should be considered.
Why do you need variety? Because your audience has a very short attention span. You need to spark their senses in different ways so you won't lose them.
Search Engine Optimization
This is the part where you place yourself readily available on search engines. Whether you want to be included on pay-per-listing ads or buy off some keywords so you can easily be spotted, it's up to you how you will optimize your website.
Just keep in mind: It's not all about being in the top ranking in Google (or other search engine) Search Results. It's also about having good content that more specific searches will result to.
Social Media
Ever thought about letting everyone know of your latest promos and discounts online?
Well, trust me, you should. Considering the millions of people using Facebook, Twitter, Pinterest and other social networking sites, you're in for infinite possibilities. Imagine how much easier customer engagement and feedback will be just by clicking on the Comment Box or Reply button.
What makes social media such an important internet marketing tool is that almost everyone uses it, it's convenient to use and free to sign up for. Now, I don't really see the point of not getting your business live and active there. Do you?
Banner Marketing
Remember the days when you pay for an ad in yellow pages of in newspapers? Think of banner marketing like such, only online!
Whether it's in your own website or other pages, banner marketing allows people who browse the web to get a glimpse of what you have to offer.
What you need to remember for this one is to never make your ads appear like they're a hoax. To begin with, avoid using too much flashy and loud text.
Email Marketing
I'm not talking about spamming a potential market about what you're all about. I'm talking about working with landing pages, optional sign up sheets and online subscription forms. What you want out of email marketing is to be able to talk to only those who have taken the first step (displayed interest) and sustain your current customers. 
I hope that you see just how powerful of a weapon internet marketing is. Even if you're a small business owners or a full-blown business tycoon, I can tell you: you need this to generate more sales and profits.
Remember: online, the possibilities are endless so why let your business miss out?