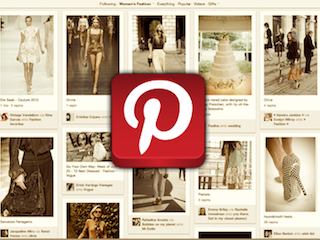 Pinterest is a social network revolution. I must confess, I'm hooked not only because it's down right addictive. It's also about the way this social media heavyweight has managed to help businesses make more money! 
Today, I'm going to use my Pinterest addiction to help all you online marketers. We'll explore not the potential but the surefy benefits of using this social network to drive more sales for your business.
I believe there's nothing like laying out the facts the way numbers do. So to start this off, I'm going to well, pin down the numbers for you to see just how massive Pinterest is.
Pinning the Numbers
Total number of users by 2012: 17 Million
Since the small and humble company from California started in 2010, August 2011 1.2M users soared to 7.2M users come December. By the end of last year, there are over 10M users and come 2012, it now has 17M users and counting!
Percentage of Referral Traffic: 3.6%
Traffic driven by Pinterest is larger than YouTube, LinkedIn and Google+ combined.
And to give you the jaw-dropping fact: Pinterest is history's fastest standalone site that was able to cross the 10M mark.
Pin to Sell
Now that I have your attention, let's get to where you can make more money by using Pinterest.
Ecommerce or online marketing is the fastest-growing platform to date. Considering we are now living in a digital age of internet dependency, it's just the best decision to bank on all potential tools that can put you on top of the chain. This is what Pinterest have done and below is what you can do with the help of this social networking tycoon.
Web Presence
If you're an online marketer, you want all means possible (and respectable) to gain sales. Now that Pinterest is the talk of the town and practically everyone's online, nothing spells web presence better than having an account and being active online.
If your business has a Pinterest account, the chances of you being discovered online is so much higher.
Update in Trends
One distinguishing factor of Pinterest is that it allows people worldwide to know what the trends are in different areas. Whether it be cooking, travel, books or movies, the site will surely help you be in the know of what people currently want and how they want it.
Visuals
Pinterest is an online pin board that banks on visuals (images, videos, infographics, etc.) and how this can help your business get more sales is it shows the world what you are all about. Instead of writing countless articles about your new product, why not just pin an image of it and introduce it to the world? Remember, visuals have a very special way of awakening the sense so make sure you take advantage of it.
Traffic
The word "traffic" is like music to any online marketer's ears. Well, if your business is on Pinterest, then you'll be hearing endless melodies from hereon out.
Let's take two examples. HubSpot has over 1,000+ monthly visitors driven to their website just because of referral traffic by Pinterest. Shopify.com pinned 75 orders last September 2011. Come April 2012, they have over 320 orders from traffic generated by Pinterest.
So you see, Pinterest really has the power to drive people more to your website. Whether they found out on your Pinterest account itself or through "Re-pin", they will end up wanting to know more about your business.
Inspiration
Another way Pinterest can help you increase sales is getting you inspired. Once you follow people and see what interests them, it ignites your creativity and drives you to creating more products/services that will best suit your clients. It will also somehow let you in on what your competitors are pinning and be inspired to be better.
Target Market
Studies have shown that 68.2% of Pinterest users are women. Now this is specifically beneficial for businesses that thrive on women's clothing, shoes and other merchandise. So if you're one whose target market are women, then you better start using Pinterest.
Subtle Selling
One of the biggest no-no's of Pinterest for marketing is hard-selling and overpromoting your products. What people are more interested to see are what others want. I consider this as the part where you make your wishful thinking public: places you want to go to, food you want to cook or eat, things you want to do before you die. It's a big bucket list of what people want.
If you're able to post visuals about things that connect to your products and services, then people will give interest. This will eventually lead them to wondering what you are selling.
Linking
Say you posted a photograph of your latest product in Pinterest. Instead of putting such a long caption (which defeats the very purpose of caption) to describe it, why not interlink the photo to your website. Once your audience click the image, they will be led to your website or blog.
Truly Pinterest has changed the way we perceive wants. So don't just create one to post the things you want, take it a step further and make money out of it. Once you decide to Pin It, then I assure you you're in for a real treat.