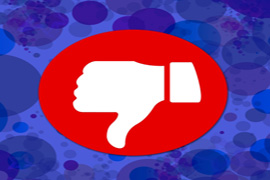 One of the biggest reasons why some ecommerce websites fail is because they commit careless mistakes. Such petty lapses can lead to fewer customers, lower web traffic and not far behind, a poor ROI.
The good news is mistakes can be avoided and fixed. So take a look at this list of common ecommerce mistakes you might already be making.
1. You depend too much on one source of traffic.
A lot of ecommerce practitioners end up depending solely on one source of traffic, whether it's a PPC ad or social media or even organic referrals from Google.  In turn, you end up getting very limited traffic and few customers.
Maximize your online store by using all possible channels to generate more traffic. Leverage on a blog which you should update often, create PPC ads that nail your products and services, use social media to get your market engaged as well as link with other affiliated sites.
There's a lot you can do, even if you're just running a local site so make sure you exhaust all possible sources.
2. Your content is growing molds.
The old promotions are still there, your product reviews are months old and you haven't updated your blog. Such stale content kills online stores so it's high time you give yours a little refreshment.
First, clean up the elements you don't need anymore. Update your promotions and news to newer ones. Change your images and videos and accord your products with certain seasons of the year. These are just some of the small tweaks you can do to create a big impact in your online store.
3. You're completely ignoring the mobile market.
By 2014, mobile internet browsing is foreseen to surpass that of personal computers. In fact, 1.4 billion smartphones and 268 million tablets will be in use by the end of 2013.
All you need is a responsive web design or even a separate mobile site in order to cater to all possible customers using different devices. Understand that there is an extreme sense of convenience and quickness in using mobile phones and tablets when browsing. Imagine the amount of clicks you can get and the potential number of orders your customers will purchase once you provide their mobile needs.
4. Your online store is just too much of an eye sore.
Whenever you walk into an actual store in a mall, do you easily get turned off when you see all the items just lying around as if no one cares?  Well, that might be the exact sentiment your customers have whenever they see your site.
So revisit your design and layout and see how you can develop it. Nowadays, less is more and minimal websites are what clicks.
5. You're too engrossed with only the products that are selling.
Here's the problem: You're stuck promoting those which sell that you forget about one itsy bitsy detail— customers' taste change overtime.
There's no harm in keeping your best sellers. What you need to do is to also focus on those that are not selling and try to incorporate new products as well. If you're selling smartphones online, why not pair it with a few other accessories? You can even create promos and discounts for the more stagnant products.
The key here is to stay competitive and remind yourself that your market has a very short attention span.
These ecommerce mistakes can definitely hurt your business' potential growth. As early as now, review your online store and fix any errors that could be causing you better selling opportunities.