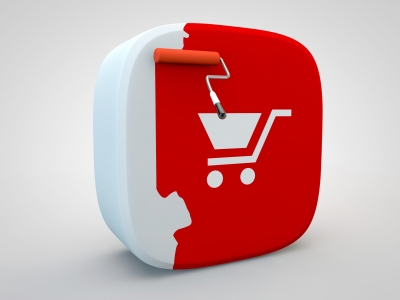 Social media has come to influence ecommerce in such a huge way. In the apparel segment alone, 43% of the population purchase and discuss apparel in various social media platforms.
While it is widely known for discussions, social media goes beyond it. It's become a vehicle to get one's products out there, market to a wide range of possible and current customers as well as gain more popularity online. It's as if online stores have been given a megaphone to reach out to their market.
As an online seller, consider social media as an essential tool. To get you a good head start, here are some ways it can benefit your ecommerce efforts.
1. Start by integrating it within your site.
The first step you need to do is to integrate your social media accounts in the site itself by adding sharing buttons. You notice those little circular options of sharing content to Facebook, Twitter, Google+, Pinterest and other platforms? Those are the buttons you'd want to have in your ecommerce site.
Make it easy on your customers to share specific products they like, blog posts they find useful and even your online store itself in their social media accounts. Just by having the options to easily share anytime increases your opportunity to reach a bigger market and possibly more sales.
2. Increase brand visibility in more ways than one.
Apart from search engines, social media is another tool you can utilize to increase your store's visibility online. Considering the amount of followers you can gain as well as the powerful value of sharing, it's one opportunity any ecommerce practitioner shouldn't pass out on.
Say you're launching a new product. You craft campaigns or even contests via social media with certain users garnering the chance to win that new item of yours.  Whether it involves having to "like" your page before participating or posting a photo on Instagram, once word spreads and more people are participating, expect your store to be more known and visible to a bigger potential market.
3. Engage your customers to win their trust and loyalty.
Engaging your customers means you need to constantly nourish your relationship with them. This could be by posting content they will find interesting and would respond to, answer the queries these customers have as well as always getting in touch with them.
Since the purpose of social media is to also drive people to your main online store, keeping them engaged will actually get you more users to check out your site. Say you run a local clothing store. A great way to get your customers engaged is by posting a blog about clothing hacks they will find useful and linking that to your social media profiles. Since such blog post is very applicable and helpful, customers will be more than happy to learn a thing or two from you. From here, they'll be thanking you for such a wonderful post or even better, share it to their own circles and friends.
Other than that, also make sure to respond to their tweets, comments and other queries as soon as you can. You wouldn't want them to feel as if they're not important.
Engaging customers isn't just about telling them what you have to sell. It's also about posting content that matters to them because this is a way for you to earn their trust and loyalty. Think of it as caring for a friendship to keep it strong. You'll be surprised just how easier it will be for your customers to go all the way until checkout without an ounce of hesitation.
4. Get to know what currently interests your market.
As an online seller, it pays to know what your market is currently interested in. Thankfully, social media makes it easier yet enriching for you to get into your customers' heads and create product campaigns and promos that are more targeted.
 Take for example hashtags. Hashtags are the ones you see on Twitter, Instagram and Facebook that begin with #.  While this may be such a minimalistic symbol, hashtags have great power to show what the current and trending topics are. Now how can you use this to your ecommerce advantage?
Take for example running a clothing store. If you search hashtags like "#fashiontrend', "#streetstyle", "clothes" or "#fashion", you're going to discover myriads of discussions on Facebook, Twitter as well as photos on Instagram. From here, you can see what the hottest trends in clothing are and incorporate them into your store.
Another use of hashtags is to generate topics for your site content. This way, whether these are tips, benefits and other how to's, your ecommerce blog is well updated and are relevant to what your market presently cares about.
5. Craft social media ads that are more market-specific.
Advertisements work hand in hand with ecommerce. You know those little ads that appear on top of the Google search engine results? Apart from that, you can also advertise via social media, which makes it double the revenue growth opportunity.
Facebook ads allow you to post advertisements about certain products or your online store itself. What's more is it lets you create ads that are targeted, as you choose the demographics and other specifications for who you want the ad to appear to. Twitter ads also allow you to promote your account and even tweets so that your market will see your ads even if they are not following you.
Social media and ecommerce can be a powerhouse when used well together. So consider these promising ways the platforms can help you to better your online store numbers.