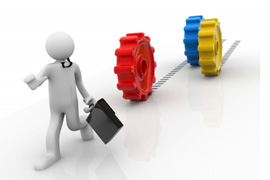 In ecommerce, it's important to know if your efforts are actually bringing you back revenue. One of the best ways to do this is by making use of tools that will help you measure your tactics.
So to guide you through and help your online store, here are some of the basic tools you must use in order to keep track of your performance.
1. Crazy Egg
The brainchild of KISSMetric's Neil Patel, Crazy Egg lets you in on your user behavior based on the number of clicks you get as well as how many scrolls and hovers. Of course, this is relevant because the tool can tell you if your web design works for your market or not.
Among its features, Crazy Egg provides a heat map and scroll map—all these count for the mouse or touchpad behavior of your users in your site. Apart from your web design, this tool also lets you in on which products work best and those that need a little work.
2. Word Stream
Keywords play a very vital role when it comes to ecommerce. Since it is one of the pinnacles of SEO, it's critical for you to know which keywords are best to use and how to incorporate them into your online store.
If you're having a difficult time finding the right keywords for your niche, Word Stream allows you to enter a certain topic and it lets you in on refined keyword results appropriate for your niche. This in turn will help you make your web content more targeted, especially in your blog section and product descriptions.
3. Google SERP Checker
SEO is a huge bulk of effective ecommerce. Despite a brilliant web design, original blog posts and outstanding products, you're not driving enough people into your site if you're not aware of your SEO efforts.
SERP Checker checks your current page rank and status. This instantly tells you if you're doing well with your online visibility as well as your optimization techniques. From here, you can see how else you can improve yourself in getting your online store at a better position.
4. Email Auto Responder Alert
Understand that your customers need your constant attention. A common mistake among online sellers is they forget about people inquiring at different times of the day, maybe at times when sellers are not available to attend to them.
Beat the real time problem by making use of email auto responders and alerts. This way, you can inform your market that you've received their inquiry and you'll attend to it as soon as you can.
A 24/7 online support can be quite costly for smaller businesses so this is a great alternative for you.
5. Google AdWords
This is by far one of the best tools you'll ever come across when running an ecommerce site. Google AdWords gives you the opportunity to create targeted, niche-driven quality ads for your market.
What's more is you can easily partner AdWords with Google Analytics in order to see which ads are moving better, getting more clicks as well as those that aren't fairing too well.
These ads can make such a huge difference considering you can customize them to appear in relation to what your market is currently searching for.
6. Social Media
Integrating your online store with social media platforms is one of the best ways you can bring your brand out there for a greater reach and increased engagement.
It's a tool for you to get to know your market, communicate with them and show them more about your brand. This is a vessel for you to establish quality relationships with your market.
A good tip is to keep your posts at a good balance of promoting, informing and sharing. This way, your market will see you more of a person than just a robot always out to offer products and services.
Continuously improve your online store with these tools. Hopefully, there'll be enough developments for your site to thrive in your industry.